PERSONAL DISCIPLESHIP UDEMY EDITION
If the idea of 30 lessons seems overwhelming to you or if you'd like to study only one aspect of discipleship, we now offer this material in smaller, bite-sized chunks. This material has been broken down into the five key sections (ReBorn, ReThink, ReEmote, RePlan, and ReProduce), but still includes all the videos, notes, and steps of the longer course. And each course is only $19.95! Here's where you can sign up:
Session 1-ReBORN
How to Know You Are a Genuine Christian

True Repentance

Amazing Grace

The Danger of Misrepresented Grace

Have Iniquity & Narcissism Invaded the Gospel?
Session 4-RePLAN
How to Know God's Purpose for Your Life

How To Make Lifelog Resolutions

The Rewards of Diligence

The Benefits of Developing Convictions

Understanding the Seven Ways the Holy Spirit Works in You

Called to be a Soldier
Session 2-ReTHINK
How to Think Like God
Inside the Mind of God
Foundations of Healthy Thoughts
What Seems Right vs. What is Right
How to Have Success
What God Does with Our Sie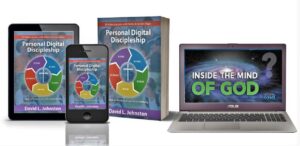 Session 3-ReEMOTE
How to Control Your Emotions
How to Properly Control Emotions
How to Control Your Imaginations
The Joy of Living by Commandments
The Logic of Love
How to Calmly Face Opposition
Session 5-ReProduce
All in to Reach Out
How to be Useful and Usable to God
The Three Groups of Spiritual Gifts
Friendship: The God of Reconciliation
How to be a Red Hot Christian
Overcoming Objections